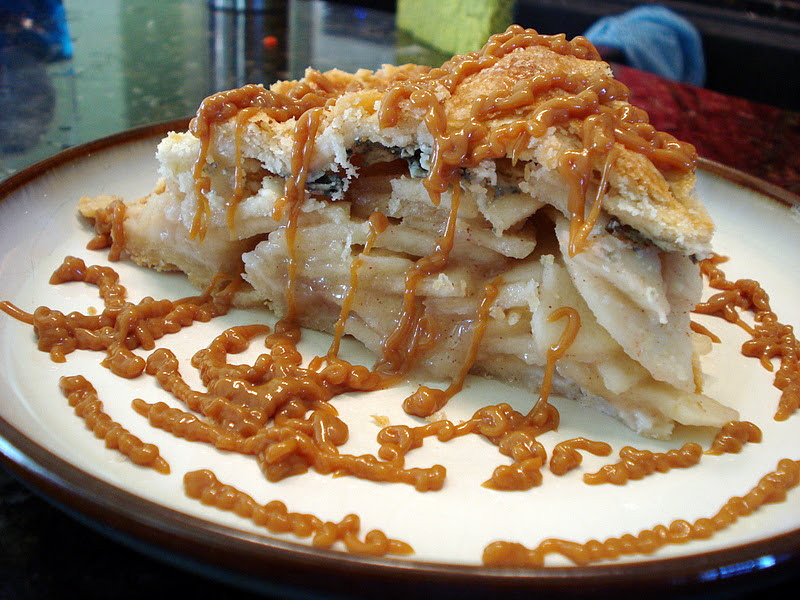 Right before Christmas one of the pages I follow on Facebook announced that they were having an original recipe contest using their product, Rogue River Cheese. It didn't have to be blue, but hey, when you're cooking with Rogue River cheese, it's gotta be blue to be truly wonderful. I'm not sure exactly what made me want to actually submit a recipe. I didn't have anything that I was known for making…you know the recipe that everyone gets super excited about…but after reading their post, I went to bed and lay there for a while racking my brain trying to get inspired. I knew that the majority of recipes would be of the savory category. Pasta with cheese sauce, grilled steak with blue cheese butter, some type of pizza with complimentary veggie/cheese/meat mix…all of which are completely amazing, but I wanted to do something different. Something that would stand out from the rest. If I was going to win this contest..it had to be good!
What goes with blue cheese, besides pears? Apples, tart granny smith apples! A perfect combination with a hint of cinnamon and sugar drizzled in caramel sauce…that had to be the winner. So with that in mind, I went to sleep thinking to myself I'd have to give it a try.
Well, like some good ideas, they get put to the side, the follow through isn't there and that is what almost happened with the pie. By the next morning, the thoughts of the night before had dimmed to a back of the mind idea. I told myself I had plenty of time to get the ingredients and put the pie together..to give it a test…to get some great pictures and submit it. I had until midnight December 31st..no problem. Days passed, Christmas happened, and then the anniversary…haircuts, chiropractors, lunch with friends and then it's the 30th..hmm…I almost had myself convinced that it was a bad idea, why bother? But something in the back of my mind…said, hey, it's a good idea, do it! So I went to Market of Choice, bought my cheese and apples, went home made my pie crust, and then got my Eagle Brand milk boiling on the stove. If I was going to do this, I was going to do it right and make my own retro caramel sauce.
I uploaded my recipe and image after trying the pie, which turned out fantastic. I knew that there were a few changes that needed to be made to the recipe, so I took my chance and modified the recipe without making a second pie. Yes, I needed another pie around the house like I needed another hole in the my head! The Rogue Creamery announced that they would be making all of the recipes submitted and announce the winner on Friday, January 7, at 5:00pm. I didn't win first prize. And that's ok. I won the 1st runner up prize which is one of their cheese gift boxes Best of the ACS 2010. I was thrilled to have even been considered.
It felt really good having followed through with my idea. And I realize that is something I'm not really good at doing. Not because I'm lazy or can't do it, I think it's a lack of self confidence and actually a fear of success. Hopefully this one little baby step towards showing myself that I can do it will not be my last.