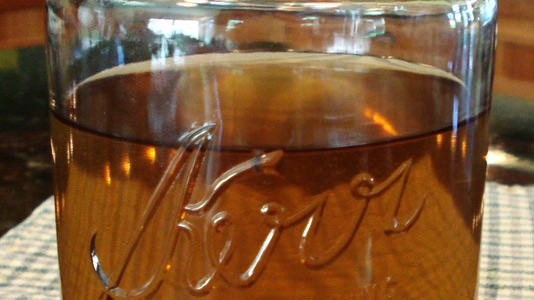 Ok, last night fun was had by all. My friend Corey came over and made us dinner, Wolf made the drinks…I flitted around making sure everything was going well. After a wonderful meal, we adjourned upstairs to initiate Corey into the world of Pulp Fiction. Yep, he'd never seen it, so we decided it was time for him to get some cultural literacy. I don't know how he liked it, maybe because so many movies have been made since then that emulate the style, it wasn't as spectacular for him as it was for us when we first saw it back in the dark ages.
I decided that it was finally time to test out my lavender/vanilla vodka that I had made a few months ago. Deciding what to make was a bit of a challenge. Because the vodka isn't sweet, I wanted to try something that added a bit of sweetness to it, but not too much. I settled on a Cosmopolitan and replaced the regular vodka with my own creation.
My first reaction was too much lavender. The vanilla did a nice job of smoothing out the edges of the vodka. I think my next one will use half lavender/half plain vodka to reduce the overwhelming lavender flavor/odor. Thought after the first drink, I felt that the lavender mellowed a bit and wasn't so over the top. But sometimes less is more, so I will probably dilute my batch of vodka with more plain vodka.
Here is the recipe we used:
Cosmopolitan
Ingredients:
2-1/2 oz Cranberry juice
2 oz Lavender/Vanilla Vodka
1 oz Triple Sec
1/2 oz Rose's Lime Juice
Lime Twist & a touch of zest
Preparation:
Fill a cocktail shaker with crushed ice, add all ingredients except for the lime twist. Shake vigorously. Strain and pour into chilled martini glasses. Garnish with the lime twist.
Special Instructions:
Keep the martini glasses in the freezer with the vodka for the best presentation. Cutting the lime twist over the glasses will help coat them in lime oil, for a great aroma.